Date added: 09 June 2008
If you go down to the woods today...
Swindon Child Carers celebrate 20 years with a Teddy Bear's Picnic!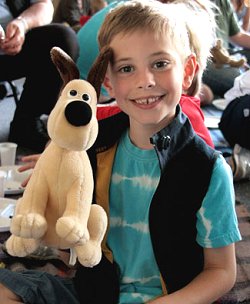 Swindon Child Carers are celebrating their milestone 20th anniversary this year - and they kick-started celebrations this weekend with a teddy bear's picnic.
The event, which took place at the University of Bath's Oakfield Campus on Saturday afternoon, attracted carers and children past and present to join in the fun.
Organisers provided a free picnic lunch and lots of activities and competitions - with all proceeds going to the Great Western Hospital Mother and Baby courtyard.
If you'd like more information on the Swindon Child Carers, call 01793 328849 or follow the web link below...

Swindon Child Carers 20th Anniversary Picnic - 07/06/2008