Date added: 14 June 2008
Who's a good boy, then!
Liddington Village Fete and Dog Show 2008 - picture gallery
The sun brought out the crowds - and canines - for the Liddington Fete and 9th annual Scruffs Dog Show this weekend.
An event opened by former Status Quo drummer John Coghlan who, alongside his wife Gillie, spent the afternoon fussing over and judging the sixty or so four-legged friends that entered the fun dog show organised by local charity Westie Re-homing.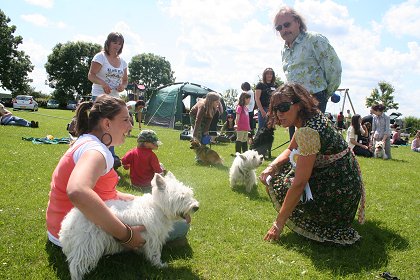 John and Gillie Coghlan (r) judging the
Scruffs Fun Dog Show
at Liddington Fete
In as quintessentially English scene as you are ever likely to see, the village gathering included all the usual: stalls, raffles, tombolas, teas, coffees and cakes, a bouncy castle and plenty of bunting; with musical entertainment supplied by the Warneford Big Band.
Liddington Fete and Dog Show Gallery

Liddington Fete and Dog Show 2008 - 14/06/2008
John Coghlan's Quo
The founding member of Status Quo, and his band perform all the Quo hits at Riffs Bar - 25 OCTOBER

Stanton Park
Our boy Milo's off for a walk around Swindon's haven for wildlife...