Date added: 18 June 2008
Dazed and Confused
Swindon musicians help raise £300 for Prosect Hospice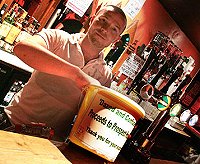 local talent raised over £300
Hundreds of music fans across the town attended a day-long gig at The Furnace, helping to raise over £300 for the Prospect Hospice.
It was definitely a charity fundraiser of two halves - with the 'Dazed' event during the day, and 'Confused' in the evening.
Acts included First Signs Of Frost, The Divebomb Revolution, Munroe Effect, and Durera.

Dazed and Confused Charity Gig at The Furnace - 14/06/2008