Date added: 21 June 2008
Swindon author brings stories to life
Children enthralled at Borders' storytelling event
It may have been damp and pretty miserable outside, but it was all fun and laughter in the children's section at Borders book store today.
Swindon author Neil Griffiths - who invented the Storysacks children's books - spent nearly three hours telling stories and animating some of his best-selling literary creations.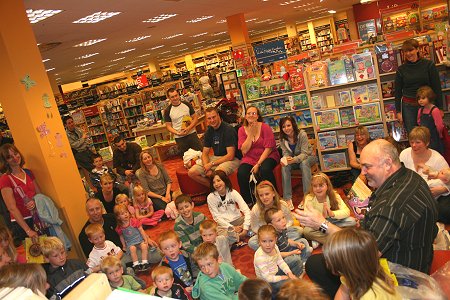 the audience enjoying one of Neil Griffith's Storysack stories
Tales from books like 'Messy Martin' and Neil's latest work - 'Did You See Them Too?' - a story of a boy who thought he saw an an elephant while sitting on the stairs, but when he looked again, it simply wasn't there.
A morning's entertainment that kept over sixty youngsters and parents listening attentively, with one describing the event as '... absolutely brilliant fun.'
Neil, who is the former headteacher of Westlea Primary School, invented the Storysack concept in 1997, where each sack is based on a children's book and contains puppets and scenery to illustrate the story, plus games and audio tapes to encourage language development.
They are now in use throughout the UK and sold on over in sixty other countries across the world.

Storysacks storytelling at Borders Swindon - 21/06/2008