Date added: 24 June 2008
Glastonbury 2008 - Swindon's Connection
Our Gilbert's back in the limelight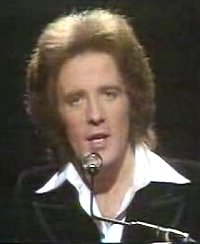 Our boy wonder:
Gilbert O'Sullivan
Thousands of music lovers will be descending on Glastonbury this weekend, for the world-renowned annual music festival.
And we're pretty excited about one act in particular.
Gilbert O'Sullivan, who grew up in Swindon, will be performing on the Pyramid stage on Sunday night.
The 61-year-old Irish singer-songwriter, who topped the charts in the 1970s with hits like 'Alone Again', 'Clair' and 'Nothing Rhymed', will be sharing the stage with the likes of The Fratellis, Amy Winehouse, and Neil Diamond.
It might have been more than 30 years since he first shot to fame, but there's no denying that the pop star's still got what it takes.
We just hope his taste in jumpers has improved...
O'Sullivan from the 1970s,

during a rare period where he

ponchant for snazzy jumpers

locks - and, as ever, in deep contemplation
Watch Gilbert O'Sullivan Clip
The classic 'Alone Again'