Date added: 06 May 2008
Wind, rain...and music!
Frequently inSwindon gig entertains wet shoppers
May Bank holiday usually means one thing in Swindon - an extra day to spend avoiding the rain!
But there was no stopping locals in the town centre on Sunday, who fought the wet and windy conditions to watch four local bands perform.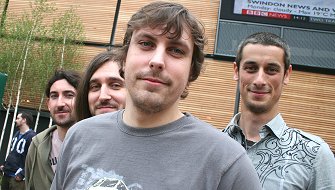 Buswell, The Shudders, Acoustic Taxi and The Paddocks were all brought to the centre as part of Frequently inSwindon - an initiative
which showcases the work of local musicians on the first weekend of every month.
Helping to support the town's thriving music scene, the gigs offer bands the chance to play to crowds who wouldn't normally experience their music.
Now in its third month, the gig has found a new home at Wharf Green - in front of Swindon's brand new Big Screen.

Frequently inSwindon gig - 04/05/2008
Frequently inSwindon
Live music on stage in the town centre and on the big screen - SATURDAY 03 SEPTEMBER...

Frequently inSwindon
A 'teen special' music gig featuring Ella's Unable, Dominic French, What is Echo and Theo Altieri - watch videos...