Date added: 12 May 2008
Kite Festival 2008
Jack Dunn tells us what it's like to be a high-flyer in Swindon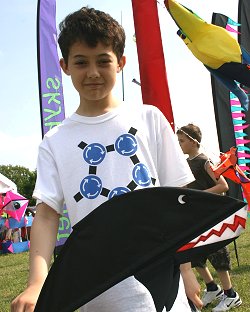 Flying high:


13-year-old Jack Dunn gives
his take on the Kite Festival
With flags and kites flying
and the sun beaming, the
Swindon Kite Festival was a big success at Lydiard Park
this weekend.
There were colours everywhere you looked -
from the kites being tried out in the field, to huge flags and other things powered by wind.
Lots of people were out
enjoying the sun, with kids playing in the playground, and kite fans and experts from around the world as well as beginners (like me) who wanted to have a 'quick go'.

And having tried it myself, and I have to say it was very fun!
While I was there I spoke to some other people flying kites.
8-year-old Steven said: "I like turning the kite when it's up in the air, and I think it is fun seeing the colours in the sky."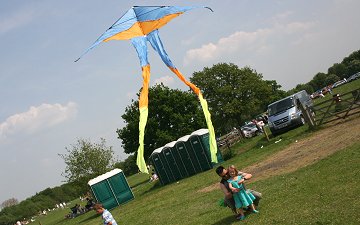 the Kite Festival attracted people from far and wide
Neil Harvey, who was commentating on the kite flyers' performance, explained that this is the first in five years they have run the Kite Festival in Lydiard Park, as before it was in the Wroughton Air Field.
He told me: "We were very lucky with the weather, it would've been better if we'd had a bit more wind, but we can't complain!"

Organised by the White Horse Kite Flyers, the festival has been running for 25 years, every year (except one because of foot and mouth), and this one was a great addition to that list.
It was a great day for the whole family, and I personally loved it!

Swindon Kite Festival 2008 - 12/05/2008