Date added: 15 May 2008
Packing a punch
Legendary heavyweights reunite at Swindon sporting dinner
Thirty years ago they were fierce rivals in the ring – but tonight in Swindon they showed they were the best of friends.

Former undisputed World Heavyweight Champion Larry Holmes making a guest appearance at a charity dinner with legendary hard-hitting puncher Earnie Shavers.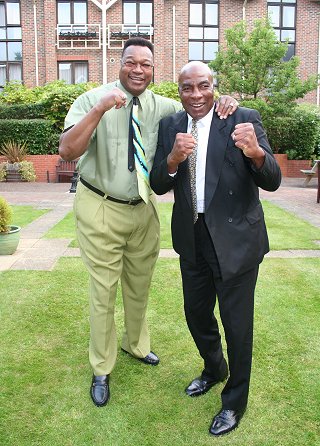 Larry Holmes (r) and Earnie Shavers (l)
at the De Vere in Swindon for the
KM Promotion charity evening

The pair enjoying a fabulous night with over a 150 fans of the noble art who joined them at the De Vere Hotel to talk about what was described as 'the golden age' of heavy weight boxing.

"When I stepped into the ring with Mohammed Ali as his sparring partner I knew I wanted to be a boxer," commented Larry.

"And from then on I got to face opponents like Joe Lewis and Earnie Shavers and then later down the road I got to fight against the great Mohammed Ali – so the opponents I got to face were truly the golden age of boxing."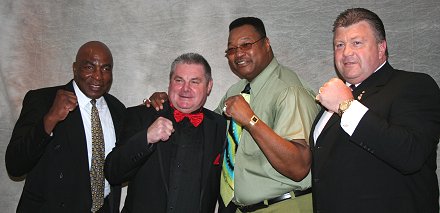 (l to r) Earnie Shavers, Keith Mayo, Larry Holmes
and Eddie Neilson all at the De Vere Hotel for
Swindon sporting dinner

The night organised by KM Promotions also included special guest Swindon boxing star Eddie Neilson, a man especially proud to be attending the sporting dinner as it was helping raise money for a cancer charity who helped his wife, who sadly died last year.

"Tonight will be a great evening of entertainment," said Eddie Nelson, "and when Keith said that the money raised from tonight would go towards a charity close to my heart I was overwhelmed."


Adding a touch of glamour to the night was reigning Miss Swindon, Becky Cole, who helped boost the bids in a charity auction that raised several thousands of pounds.

Additional guests also included members of the 2nd Battalion The Royal Welsh who are based locally in Tidworth, and Swindon fighter Jamie Cox.

Larry Holmes Evening - 14/05/2008
George Groves in Swindon
World Title Contender packs a punch at The Sun in aid of Sebastian Murtough - PHOTOS + SWTV INTERVIEW

01 March 2014

Ready To Rumble!
Cox & Royer come face-to-face ahead of this weekend's big Oasis clash...

14 June 2013

Cox Comeback
Swindon boxer ready for ring return at Oasis on 15 JUNE - SWTV INTERVIEW + PRESS CONFERENCE

12 April 2013

Ant & Dec-ked!
TV stars and former world-champs enjoy white collar boxing at MECA - SEE GALLERY

03 May 2012

Bam Bam v The Menace
Swindon grudge fight tops the bill at white collar boxing at MECA - WIN VIP TICKETS

Festive Knockout!
Boxing day comes early at MECA Swindon - REPORT & GALLERY...

17 December 2011

Title Fight Tops Bill
Wiltshire boxer Nick Blackwell defends his English middleweight belt at M.E.C.A - 05 MARCH...

17 January 2011

Semi Pro Fight Night
Sean Mulvihill crowned Heavyweight champion of the Neilson Promotions fight night...

13 September 2010

Go on, give it some!
White collar fight night at Liquid & Envy in Swindon - SEE GALLERY...

07 April 2010

Knock-out success
White Collar Boxing evening raises money for charity...

19 October 2009

Fancy some?
We grab a word with boxing legend Nigel Benn in Swindon on fights - and faith.... watch interview...

Ready to rumble
We interview Jamie Cox and Marlon Reid before tomorrow's fight at the Oasis...