Date added: 03 April 2008
Piping hot!
Traditional American Indian music echoes through the town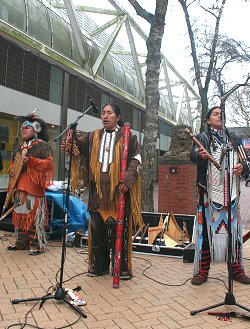 Native American Indians playing to
the
crowds in Swindon town centre
The town centre was filled with the sounds of pan pipes yesterday, as native American Indian band Wuauquikuna entertained shoppers in Canal Walk.
The trio, dressed head to toe in authentic costume, played for over five hours - with every kind of instrument, from pan pipes to bells, being played.
And it didn't take long before Swindonians were caught tapping their feet.
This isn't the first time live music has been brought to the town - and with the second Frequently inSwindon gig coming to the centre this Saturday, the Swindon shopping experience is set to become the envy of the South.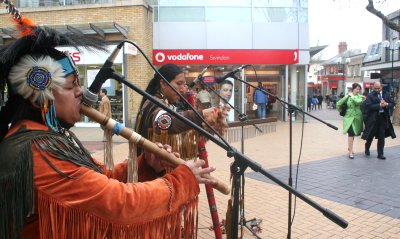 Wuauquikuna in Canal Walk