Date added: 07 April 2008
Music gig brings town centre to life
Second open-air showcase on song for Swindon shoppers
The second Frequently inSwindon gig rocked the town centre on Saturday.
Despite the wind and rainy conditions, four local bands took to the stage under the Parade canopies to showcase their music – with shoppers and visitors stopping in their tracks to take in the event.
The gig was kicked off with a performance from Dropstone, whose unique approach to their music brings an element of punk and funk to a primarily rock/indie sound.

Covers band Aspheric followed, playing rock and pop songs showing an impressive, wide-ranging repertoire.
All-out indie band The Knott rocked the stage next, with a mix of emotive melodies, guitar riffs, foot-tapping beats and chest-pumping bass lines.
The day was finished off by popular band Jeff Like Usual, whose tireless work ethic has gained them many support slots with top UK and international acts such as Wheatus, Zebrahead, Furthest Drive Home, Dopamine and A Willhelm Scream.
Organiser Steve Causer, of Frequency magazine, said: "Swindon's music scene is on the cusp of being tapped nationally and even internationally.

"What goes on every week in Swindon is actually unique and we have one of the most thriving local scenes around. You don't get the quality of bands that we have in the area in other towns and cities."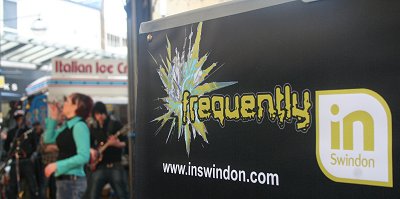 the next live gig set for Saturday 04 May 2008
Frequently inSwindon is a monthly event which brings local music that is often hidden away, to new audiences across the town.

Scheduled for the first Saturday of every month, although the next event will be held on Sunday 4 May, so click back to see more video coverage courtesy of SwindonWeb.

Frequently in Swindon 2 - 07/04/2008
Frequently inSwindon
Live music on stage in the town centre and on the big screen - SATURDAY 03 SEPTEMBER...

Frequently inSwindon
A 'teen special' music gig featuring Ella's Unable, Dominic French, What is Echo and Theo Altieri - watch videos...