Date added: 09 April 2008
What a Ruddy good night!
Razor Ruddock and Paul Merson put on a great show at the De Vere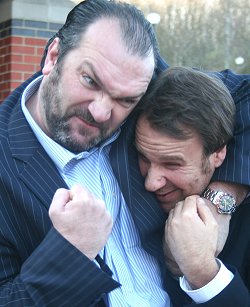 ex-Liverpool player Neil 'Razor' Ruddock
and ex-Arsenal
star Paul Merson battle
it out on the same night that their
teams
face each other in the Champions League
The battle of the Champions League was not just at Anfield last night - with Liverpool and Arsenal coming head to head at a charity sporting dinner with Neil 'Razor' Ruddock and Paul Merson.
Organised by KM Promotions, it was an entertaining evening of sporting anecdotes, tricks and football banter at the De Vere in Swindon, with almost 300 people turning up to meet their idols.
Special guests for the night included Swindon Town legend Don Rogers, boxing star Jamie Cox, and Miss Swindon Rebecca Cole, who all helped raise money for the chosen charities - The Green Hut and The Koalas.
At every event that KM Promotions run there is a respect and reward table that is set aside to recognise the good work done by local volunteers.
Ruddock said: "It's good to come back and catch up with old friends - I didn't have a great time when I was in Swindon before, but hopefully that's all forgotten."

KM Promotions - website

An evening of football banter with Neil 'Razor' Ruddock and Paul Merson - 09/04/2008
Title Fight Tops Bill
Wiltshire boxer Nick Blackwell defends his English middleweight belt at M.E.C.A - 05 MARCH...

17 January 2011

Semi Pro Fight Night
Sean Mulvihill crowned Heavyweight champion of the Neilson Promotions fight night...

13 September 2010

Go on, give it some!
White collar fight night at Liquid & Envy in Swindon - SEE GALLERY...

07 April 2010

Packing a punch
Legendary heavyweights reunite at Swindon sporting dinner...

Cox on target
Swindon boxing star tells SwindonWeb he's ready to step up after easy win...