Date added: 14 April 2008
Sprinting to success!
Official launch of the Nationwide Swindon Half-Marathon 2008
If you're thinking of taking part in this year's Nationwide Half-Marathon in Swindon, you'd better get your running shoes on - and fast.
Officially launched today as part of the Challenge Swindon initiative, the Swindon Half Marathon and Fun Run which is set to take part on 12 October, is expected to be another great success.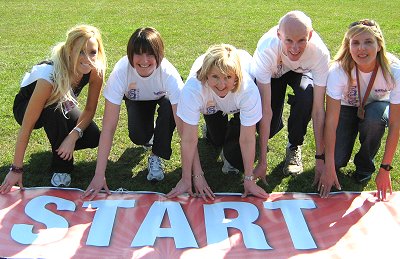 (l-r) Miss Swindon, Rebecca Cole; race organisers
Helen Maine, Cathy Caulfield and Steve Connolly;
Nationwide's Michelle Leighton
Now in it's fifth year, the Swindon Half-Marathon and Fun Run is a huge part of the Swindon calendar - and not just for the hundreds of keen local runners.
The popular community event offers everyone the opportunity to take part in one of three races - whether it be the 2 mile fun run, 5 mile multi-terrain race, or the big one - a 13.1 mile slog through some of Swindon's hilliest countryside.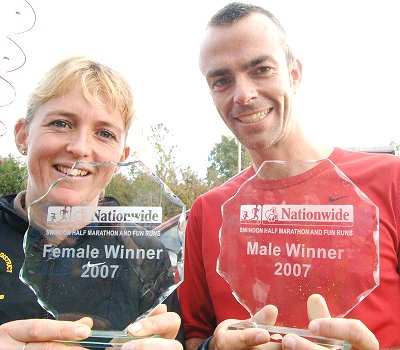 last year's first woman across the line,
Shona Crombie-Hicks, and overall winner Gary O'Brien
Nationwide's community and environment affairs manager, Michelle Leighton, said: "Nationwide are again delighted to sponsor this exciting community event, that attracts not just local runners but also runners nationwide.
"It's great to see people pounding the streets, to get fit, have fun and raise money for a whole host of local worthy causes."
Helen Maine, event organiser, said: "We hope the event this year will inspire people to take part with their family, as an individual, or as part of a team.
"We would encourage people to be involved and support this community event that creates a real buzz for Swindon."
If you'd like to take part in this year's event, you can enter via the link below, email
swindonhalfmarathon@swindon.gov.uk
, or alternatively call the Half Marathon team on 01793 511033.