Date added: 16 April 2008
Larry, Earnie and Brian hit town
Heavyweight legends all set for Swindon - WIN TICKETS!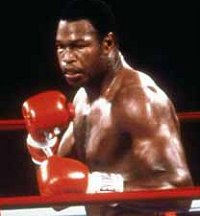 Larry Holmes here on 14 May
Sports fans in Swindon will be able to go ring-side with some of the legends of heavyweight boxing next month.
Larry Holmes - the undisputed champion of the world from 1978 to 1985, and the last man to beat the mighty Mohammed Ali - will be making a guest appearance here on Wednesday 14 May.
An event organised by KM Promotions being held at The De Vere hotel, also featuring Earnie Shavers and former British heavyweight Brian London.
"I'm honoured that Larry, Earnie and Brian have agreed to come to Swindon," said promoter Keith Mayo.
"Larry Holmes is one of the biggest names in boxing whose record is respected the world over."
Holmes' arrival comes just weeks after KM Promotions' last boxing dinner, a sell-out, which featured the fighter regarded as "the toughest white man on the planet" - Joe Egan, alongside local fighting stars Eddie Neilson and Ricky Porter, amongst others.
Tickets for the event can be booked by contacting
For your chance to win two VIP tickets to the event, simply answer the following boxing question.
Q: Larry Holmes beat Mohammed Ali in which famous gambling city?


D. Glasgow



Terms & Conditions
Cox Shows What He's Made Of
Swindon-boxer denied world title by George Groves in epic four rounds at Wembley - WATCH VIDEO

15 October 2017

Cox on target
Swindon boxing star tells SwindonWeb he's ready to step up after easy win...

Jamie Cox
Swindon's gold medal-winning boxing hero...