Date added: 21 April 2008
Highworth 5 Mile 2008
Hundreds of runners brave the wind and rain - see gallery!
Despite the wet and windy conditions, more than 400 people arrived in Highworth on Sunday afternoon to take part in a 5 mile running race around the town.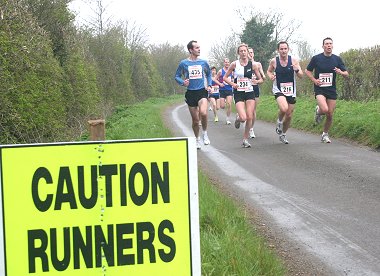 runners making their way
through
the countryside at Coleshill
The route took runners out of town through the beautiful countryside of Coleshill, and back round to the finish line at Warneford School.
First across the line was Simon Plummer of Woodford Green Running Club - in an impressive 24 minutes 49 seconds.
And it was a successful day for Cirencester Athletic Club with runners Chris Illman and Adrian Williams finishing second and third respectively, and Wendy Nicholls coming in first for the ladies in 27m 50s.
Organised by Highworth Running Club, this was the 23rd annual event of its kind.

Highworth 5 Mile Race - 21/04/2008
Swindon Half-Marathon CANCELLED
2015 looking like the final year after crowd funding falls flat. Only £2,250 raised towards £27K target....

12 September 2016

Swindon Half-Marathon 2014
Well done to everyone who took part in Swindon's biggest sporting event today! - 130+ GALLERY

12 October 2014

Running In the Rain!
Our 150+ gallery from today's Swindon Half-Marathon 13 October 2013 - SEE PICTURES

13 October 2013