Date added: 24 April 2008
The Kooks
Brighton boys rock the Oasis - see gallery!
Artists like Lily Allen and The Arctic Monkeys might not like them, but more than 3,000 fans in Swindon certainly showed their love for The Kooks last night.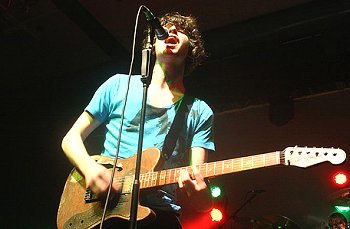 Kooks frontman Luke Pritchard
Only the second night of their spring UK tour - and just one week since the release of their latest album Konk - the indie rockers delivered a flawless performance which had fans young and old jumping around.
Luke Pritchard and co. kick-started the evening with a perfect rendition of 'Ooh La', followed by others from their Inside In/Inside Out album - eventually moving on to some of their latest tracks.
And The Kooks weren't the only Brighton boys to impress the crowds either, with support act The Rivers going down a storm.

Kooks at the Oasis - 23/04/08 - 24/04/2008
Sex-Factor
Shayne Ward gives the girls something to scream about!…

23 May 2008