Date added: 05 March 2008
Festival of Sport 2008
Launch of this year's Festival of Sport gets off to a volley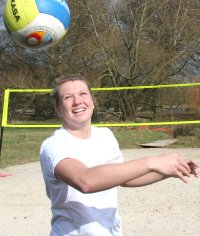 Challenge Swindon got off to a smashing start yesterday, with beach volleyball star Lucy Boulton officially launching the event at Coate Water.
And with underwear company Triumph being the official sponsor, you'd be forgiven for expecting girls bouncing around in skimpy bikinis - but the connotions weren't met by any volunteers.
This is the second event of its kind, and after the hugely successful pilot scheme last year, it's going to be an exciting event for Swindon companies this summer.
The multitude of activities range from dragon boat racing to ten-pin bowling, and there is something for everyone - so there's no excuse not to get involved!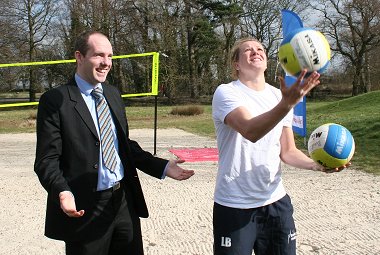 Cllr. Justin Tomlinson isn't holding out
any hope
for a place on the Olympic team
And Councillor Justin Tomlinson - who last year narrowly missed out on the booby prize for go-karting - was more than optimistic, as he tried his hand at volleyball.
But we're going to leave it to the expert - as Lucy prepares for a volleyball tour in Australia, as she chases her Olympic dream.
Challenge Swindon is taking place on Saturday 31st May and Sunday 1st June - so why not see how you can take part.

Challenge Swindon - website
On the defence
Solicitor firm swaps the court room for the rugby pitch...

04 April 2008