Date added: 20 March 2008
Literature Festival launch 2008
From Steven Berkoff to the Youth Slam, there's something for everyone this year
The 15th annual Festival of Literature was launched today, with over 50 local residents turning up to Borders book store to catch a glimpse of what's on offer this summer.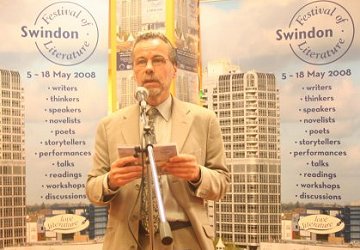 organiser Matt Holland officially launches the
2008 Swindon Literature Festival
And with entertainment including poetry readings and juggling, people soon realised that the Festival is so much more than simply sticking your nose in a book.
Events start on Monday 5th May (bank holiday) at 5:30am with the infamous dawn chorus at Lawn Woods, and finishes with a grand finale at the town hall on Sunday 18th May.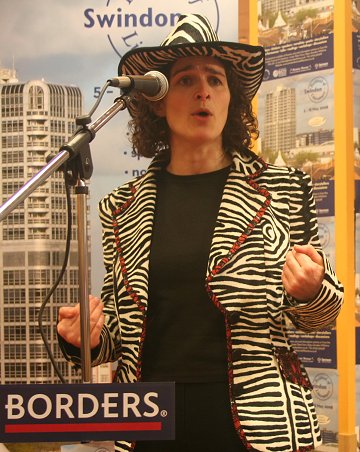 Just one of the acts that entertained guests
at the Literature Festival launch
The two weeks in between will see some of the most influential and talented literature and arts personalities coming to Swindon - including the Poet Laureate
Andrew Motion,
stage actor
Steven Berkoff
, and 'performance poetry' courtesy of
Swindon Youth Slam
.
Festival organiser Matt Holland, who remains as passionate now as when he first started the festival, said: "It's really exciting to see this year's line-up.
"On some days there are three to four great authors to choose from, and what's great is that there's something for everyone."
Tickets are available from each venue and make sure you call in at Waterstone's in the Brunel Plaza or Borders Bookstore in the North District Centre for books by authors involved in the up-and-coming festival.

Literature Festival - website

Swindon 2008 Literature Festival launch - 20/03/2008
Dawn Chorus
Early risers smile through the rain in Lawn woods...

05 May 2008