Date added: 12 March 2008
Lanterns light the way
Children and adults from North Swindon hail the first lantern parade a great success
The streets of Swindon had a little light added to them last Wednesday night, as 80 children took to the streets with handcrafted lanterns.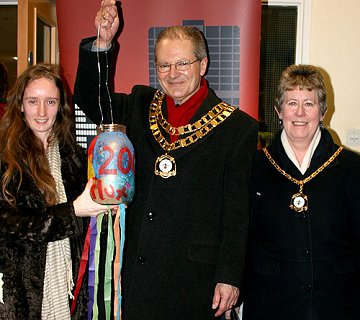 A bright future for lantern parade:
The Swindon Mayor, Councillor Michael Barnes
and Mayoress Sue Barnes hail the
first parade a great success
The event was the first-ever North Swindon lantern parade organised by Flux, to create a new tradition for the community.

The event was a result of over 150 Children, as young as eighteen months old, right up to pensioners, and all ages in between, turning ordinary jam jars into colourful lanterns.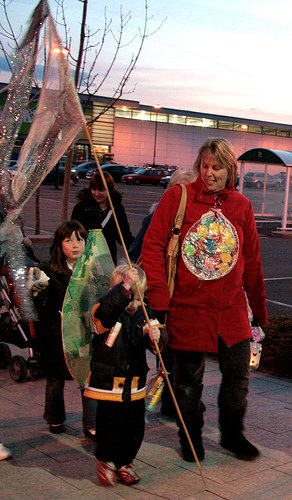 children from across the town enjoy the
first Flux lantern parade
"It has been a really exciting day and we had 200 lanterns created," commented Ella Bissett Johnson, Flux Community Coordinator.
"It was fantastic that Swindon Mayor Michael Barnes opened the event and everyone involved is already looking forward to next years events."
"It was fantastic to see the community spirit amongst everyone who turned out," Commented Michael Barnes, "hopefully this will mark the beginning of something special for North Swindon."

Flux Lantern Parade - 12/03/2008