Date added: 13 February 2008
Opening its doors to the future
Swindon College open evening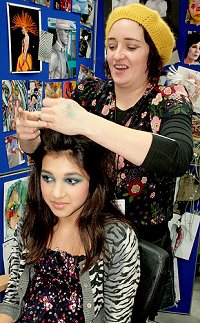 Students demonstrate their
work in the Media and
Make-up department
From Media Make-Up and Music Production, to Sequential Illustration and Interior Design – Swindon College opened its doors to prospective college-goers last night.
With a wide array of subjects to choose from, the college offered snippets of their exciting vocational courses on offer.
Current students were on hand to showcase their work, with displays from the Art and Design courses and live demonstrations from Performing Arts and Fitness Academy students.
"There are so many opportunities for young adults in Swindon," said Jonquil Brooks, principal of Swindon College.
"We put the students first – and hopefully this has come across tonight."

for more info. - Swindon College website

Opening its doors to the future - 13/02/2008
Train to gain!
We explore a new route with National Apprenticeship Week...