Date added: 14 February 2008
Swindon Swoons!
'Heartthrob' struts his stuff for Valentine's day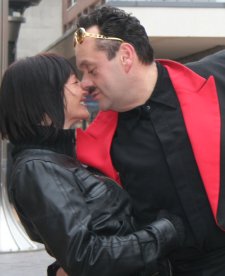 one lucky lady got a special
moment with the romancer himself
Men from across the town were put to shame today, as Mr Swoon swept in to show our lucky ladies what they're missing (or something like that).

inSwindon, the company responsible for public space in the town centre, invited the energetic 'heartthrob' to hand out special 'inSwindon tulips' on this, the most romantic day of the year.

The whole town was going mad for the tulips – or maybe it was all in the delivery, as the suave gentleman floated around with a giant cherub trolley filled with flowers.

Tulips are said to symbolise a declaration of love and they were certainly well received, with dozens of women snapping them up.

And even Swindon poet Tony Hillier made an effort to add a traditional touch of romance as he impressed the crowds with performances of famous love poems.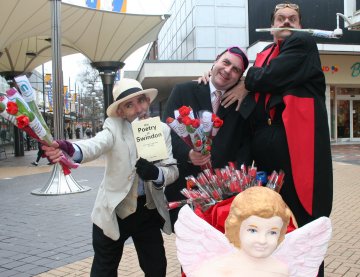 (l-r): Swindon poet, Tony Hillier; inSwindon
Chief Executive, Mark Ross; and Mr Swoon

Mark Ross, Chief Executive of inSwindon, said: "We're trying to bring a bit of traditional romance back to the town centre, and Mr Swoon seemed the ideal choice.

"It's great to see more community involvement on days like this, and we've got plenty more in the way of street entertainment planned for the rest of the year."

Valentine's Day - Swindon Swoons! - 14/02/2008
Get your skates on!
Swindon Town centre is all set to be transformed in a winter wonderland...

06 November 2007