Date added: 18 February 2008
Racing stars of the future
Point-to-point at Barbury Castle
Despite the frost, hundreds turned out to enjoy a bumper card of point-to-point racing at Barbury Castle this weekend.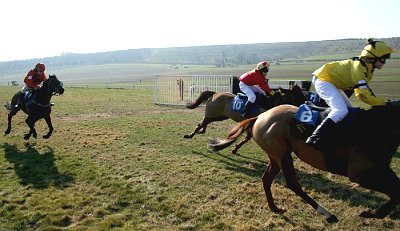 young riders competing at Barbury Castle

The Vine & Craven meeting is now a regular fixture in the amateur steeplechasing calendar and attracted 83 runners in six races.

The cold weather only having its effect at the start of the meeting, which was delayed for an hour.

The next major point-to-point at the Barbury Castle course, which is just outside Wroughton, will be the Tedworth meeting on 5th April.

The Barbury Castle horse trials also take place on 4th-6th July.

Barbury Castle Point-to-Point - 16/02/2008