Date added: 04 January 2008
Sing when you're swimming!
We dive in as Kirsty gets back in her wet suit!
The Swindon Sub-Aqua Club (SSAC) will be taking part in a sponsored swim up the River Thames this weekend - and our very own girl-in-a-wetsuit Kirsty Heber-Smith will diving in to join them.

Members of the SSAC, who have been running the annual event for over 25 years, will be plunging off the riverbank in Inglesham at 9.30am on Sunday morning to raise money for the RNLI.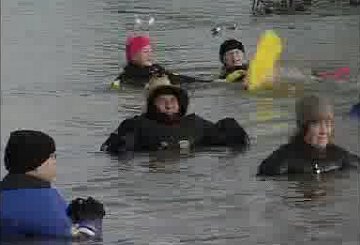 some of last year's competitors splashing

Over 30 members of the group took part in 2007, and this year will be particularly exciting as SwindonWeb will be battling the cold conditions alongside all the other competitors.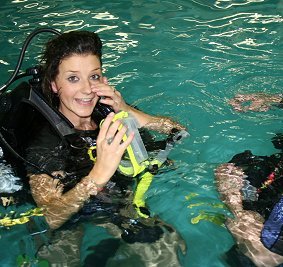 our Kirsty will be slipping into her

Swimming two miles east to their final destination of Lechlade, the shivering swimmers will end their ordeal with a well-earned cup of warm soup at The Trout Inn.
It's going to make quite a video!
Flipping mad!
The day Kirsty got rather wet swimming down The Thames - in January! - SWTV..