Date added: 04 January 2008
Try before you buy!
Oasis invites you to celebrate gym's 1st birthday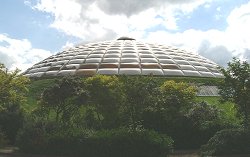 12 months on and the Oasis
wants
you to help celebrate the
anniversary of their gym's opening
With 2008 under way, it's easy to lose track of all those resolutions we so confidently made at the end of last year.

So it's lucky then that the new year coincides with the first birthday of the high-tech Oasis gym, which is offering a free trial day next weekend.

It's a great excuse to kick-start the healthy new lifestyle you've always wanted, and what better way to start than with a sample of all your favourite classes!

20-minute taster sessions will be taking place throughout the day, offering everything from Body Attack and RPM to Abdominal Training and Circuits.

The event is open from 9am to 5pm on Sunday 13th January, and with classes available on a first come, first served basis, you had better get there early!

more details - website