Date added: 14 January 2008
Sampling success
It's all working out for the Oasis gym
When you think of a birthday celebration, it's not long before you start imagining calorie-ridden cakes and other such sins – but there were no such things at the Oasis Leisure Centre on Sunday, which celebrated the 1st birthday of it's gym.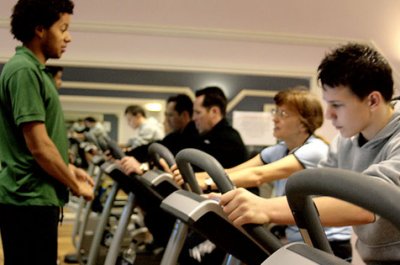 Staff were on hand to advise newcomers
on how to make the most of their work-out

In fact, the only things being sampled were fitness classes, with 20 minute tasters of all their best sessions on offer to those who turned out in their dozens.

Classes included Body Pump, Body Combat, Circuits, RPM and Abs.

24-year-old Faye Warner, from North Swindon, said: "There are so many fitness classes now that I get confused about what each one does.

"It was really good to try a bit of everything – I'm going to come back for the Body Pump as it was a really good workout!"

Oasis Gym's 1st Birthday - 14/01/2008