Date added: 16 December 2006
Billie back as promised
All those who failed to get a glimpse of Swindon starlet Billie Piper when she visited town in October got a second chance today.
The 23-year-old ex-pop princess-turned actress made a special appearance at Borders book store in the Orbital Shopping Park, where she signed copies of her autobiography 'Growning Pains' while happily chatting to fans and posing for pictures.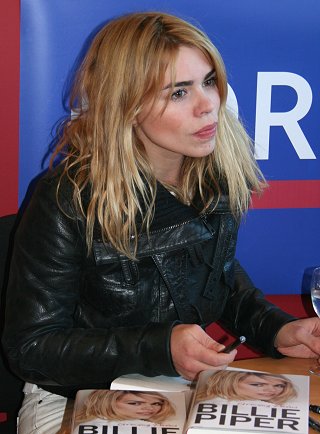 Borders bound:


Billie Piper
Billie had agreed a second visit to her home town after the overwelming rush to see her during her last appearance.
Over three thousand people turning up at Asda Walmart, where, despite staying for over four hours, a number of fans were left disappointed not to meet her.
Arriving a few minutes late for her 1pm appointment, after her car was caught in traffic on the M4, the ex-Doctor Who star spent over two hours in the store before leaving just after 3.30pm.
"It's been brilliant to see her again," said a joyous Gemma Timms, 14.
"I came first time around to meet her - and amazingly she remembered me! I think she's great!"
Billie, who grew up in Swindon and regularly visits to see her parents, who still live here, can be seen next on television at Christmas, when she stars as Sally Lockhart in the Victorian sleuth story 'The Ruby in the Smoke'.

Billie back as promised - 16/12/2006
Billie Piper
Swindon's pop star turned award-winning actress...