The Zutons
If Sunday is meant to be a day of rest, no one's told the Zutons.

In front of a packed crowd at the Oasis last night, these retro-rockers from Liverpool blasted out a fully loaded, full-throated set that left everyone screaming for encores.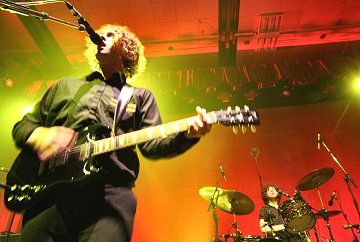 From their grand opening belter 'Tired of Hanging Around' to their frenzied finale, 'Valerie', no one was left in any doubt that this five-piece love their music loud - and most definitely lively.

Lead singer Dave McCabe clearly the man in charge as he confidently swapped instruments to dynamically demonstrate his band's diversity and willingness to give more than the usual.

Energetic saxaphone player, Abi Harding, in addition, showing off her undoubted talents and doing far more than energising each track with her big band sound and ear-catching hooks.

"The best band yet by miles," said one girl, still buzzing from the 90 minute gig, "they rocked!".