Date added: 14 August 2006
Mud Wrestling 2006
Swindon's Polo Ground played host to some good filthy fun on Sunday

A bunch of fundraisers braved the cold and threw themselves in a 10'x10' pit of soggy mud for the ultimate wrestling match.

Fathers and sons, husbands and wives and young sisters all wallowed in the wet stuff, making Swindon's first mud wrestling event a real family affair.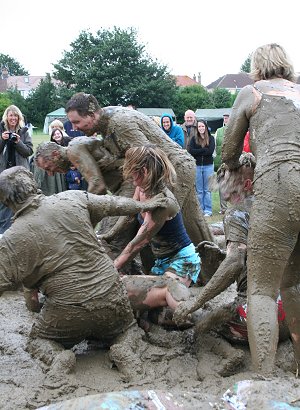 the mud wrestling frenzy at the Polo Ground
Kelly Allen leapt at the chance to challenge her sister Tracy Ellis, and neither sibling held back!

"It was really cold but great fun," said Kelly, from Ferndale.

"We raised £150 in sponsorship for the Rotary Club so it was definitely worth it. We're going to go and finish our food in the VIP tent now!"
The event was organised by Barry Wicks, who also rose to the challenge to wrestle his wife, as well as giving his all in the pie-eating contest.

"This has never been done in Swindon before," said Barry.

"It's increasingly difficult to raise money for charity and we at the Rotary Club believe your really need to make people laugh and have a good time - this has been really great family fun."

Mud Wrestling 2006 - 14/08/2006
Question Time
Panel of local well-known names help raise money for Swindon Rotary...

07 March 2009