Date added: 26 May 2006
Sport Relief 2006
Stars Go the Extra Mile for Sport Relief in Swindon

Jamie Cox today followed up March's Commonwealth victory in spectacular fashion to be crowned undisputed school sports day champion.

Swapping his boxing gloves for a sack and a skipping rope, Jamie was among the guests at the County Ground for a special event raising awareness for the BBC's Sports Relief campaign.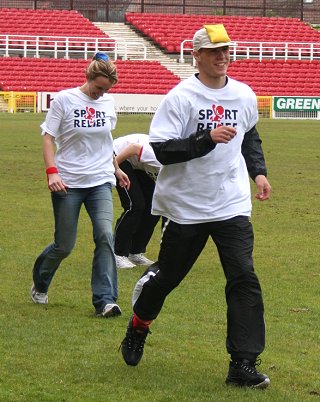 Balancing act:


Jamie Cox strides to victory in the
'balance the bean bag' race for Sport Relief
2006 at the County Ground today

Cox was joined on the pitch by BBC sports presenter John Inverdale, Olympic 400m medallist Katharine Merry and BBC Swindon's Alex Emery.

They were cheered on throughout by pupils from Drove Primary School, all wearing fancy dress on their last day of term.

"This is the zenith of my sporting career," said Inverdale, shortly after seeing off his rivals to claim the egg and spoon race.

"Come late June I'm going to have to start jumping over fences and sneaking into school sports days!"

Despite cracking the egg and spoon race, Inverdale fared less well with a bean bag on his head and struggled further trying to operate a skipping rope and deliver a commentary into a microphone at the same time!
Almost over!:


John Inverdale and Alex Emery struggle to
stay upright in the three legged race
But he took defeat to Cox gracefully, even praising the boxer for his ingenuity in wearing a baseball cap to aid the bean bag race.

"That's a classic example of a professional sportsman leaving nothing to chance," he joked.

"But Jamie's an incredible athlete and it's so great to see him doing well. If he stays amateur and goes to Beijing then turns pro there's no reason he can't go on to rival Amir Kahn."

Inverdale has been travelling the country running Sport Relief miles at various different venues including cricket grounds, beaches and high streets.

"I've run 23 Sport Relief miles at various different places around the country, but this is the first place we've done something like this," said the Grandstand and Wimbledon presenter.

"It has been really good fun and a tremendous way to increase the awareness of what is an important part of the BBC's sporting year."

He added, "My biggest problem has been that I didn't bring enough socks! There has been a certain aroma around my kit that's been increasing throughout the week!"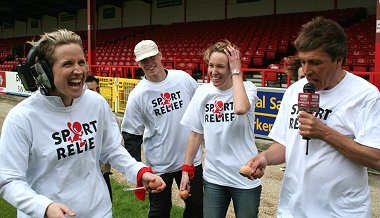 Egg-cellent effort:
(l to r) Katharine Merry, Jamie Cox, Alex
Emery and John Inverdale at the finish of the
Sport Relief egg-and-spoon race

Sport Relief is a national campaign to get as many people as humanly possible taking part on July 15, where miles will be set up across the country.

"It's not a marathon, it's not a half marathon, it's just a mile that we're asking people to do," said Inverdale. "Virtually anybody can go a mile, whether they're running, skipping or crawling."

"There's no denying what an important cause it is. While half the money goes to countries like India and Africa where they continue to face such depravation and squalour, the other half is staying in the UK.

"54 local projects have benefited from Sport Relief in the last two years alone," he added. "We raised £20 million last time and are hoping to raise as much as £25 million this time round."

Cheering them on:
pupils from Drove Road school were at their
vocal best supporting Jamie et al
Gladys Barr from the Active Swindon Company is coordinating the Swindon mile and expecting a great response.

"The mile will be at Stanton Park at 11am on July 15th," said Gladys, who also took part in today's races.

"It's one of the most beautiful parks in Swindon and it will be a really fun environment. Our target is for 1,000 local people to take part."

If even half the people reading this page click on the link below and register straight away, they'll beat that target by a mile!

So what are you waiting for? Log on to the Sport Relief website, enter your postcode and pay £5 for adults and £2 for children.

Everyone to register gets a Sport Relief red sock to wear while they take part and another when they complete the mile.
Coach Potato
Swindon fitness fanatic turns sofa sloach for Sport Relief...

21 March 2012