Date added: 03 March 2009
Ape Sign Lighterthief
Andy Partridge to work with Swindon band on forthcoming EPs

Lighterthief doesn't venture on to the stage that often, but when they do, they're described as 'an unpredictable and wonderful work of art.'
And now that's been recognised by APE Records, headed by former XTC lead member Andy Partridge.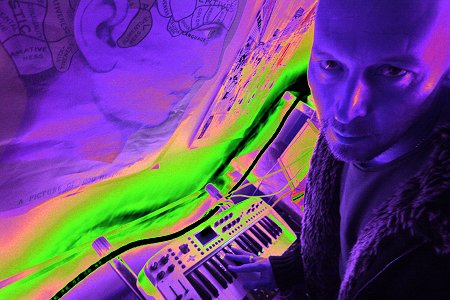 Stuart Rowe of Lighterthief, now signed by APE Records
Describing Lighterthief's founder Stuart Rowe as the Swindon musical 'Willy Wonka', Partridge will now be working with Rowe on a forthcoming series of downloadable recordings.

In the studio with
Lighterthief:
"It's fantastic news to be working with Andy," Stuart told SwindonWeb, "he's going to be having a big input on what we're working on."
The pair are currently mixing thir first ep for APE, entitled Maximalism, featuring three new numbers, Lover, All Done Things and Falling into the Future.
Lighterthief at 12 Bar this Friday
For your chance to see Lighterthief in action, they're playing at 12 Bar this Friday 06 March.


Doors open at 8pm with tickets on sale at £5.
Looking Back to 1979
35 years on from Making Plans for Nigel, we celebrate Swindon's greatest-ever band, XTC - WATCH VIDEOS