Date added: 04 March 2009
Swindon Does Arts
New initiative aims to get everyone in Swindon actively engaged in arts activities
Singing, dancing, circus skills, filming and photography were just a number of activities on offer today at the Wyvern Theatre as part of a day dedicated to art and culture - Swindon Does Arts.

An event organised by Swindon Borough Council, featuring a number of groups with one thing in mind: promoting and actively engaging people in great arts activities.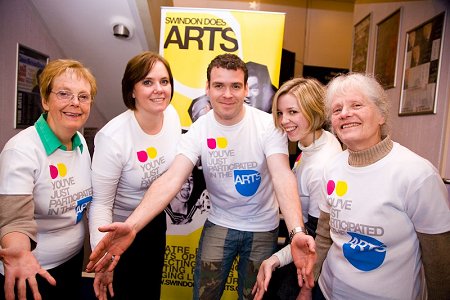 Swindon Does Art initiative at the Wyvern Theatre
"There are so many different ways to enjoy 'art' and this year it's all about getting Swindon to engage in the arts," commented Helen Miah, Head of Culture in Swindon.
"It's wonderful to see so many people here enjoying themselves. It all helps us identify people's wants and demands."

The day was part of a big plan of activities that hopes to raise the profile of all things artistic in Swindon and provide exciting opportunities for even more people to take part.
Swindon Does Art by Swindon's Community Poet, Tony Hillier
Crowds drawn by piazza circus skills for virgins
to the sound of jemba drums
as Mayor's budget juggles Clubs

Camels were squeezed through needles' eyes
as Swindon Does Big Arts
felt its logo sequins dancing

Dancing tears of joy
allowing for art expressing sadness
as plasticine is rolled and moddled by Kelly S

for overhead animation shots
as plasticine elbmows womble
and engage in not rubbishing Art in Swindon
Swindon Does Art picture gallery

Swindon Does Art - 04/03/2009
Second to Naan
Thousands flock to enjoy the Swindon Mela 2009 - gallery + TV...

'A Walk in the Park'
Victorian dance film brings together Swindon's artistic talent...

15 March 2009