Date added: 17 March 2009
It's big and it's coming to Swindon
Radio 1's Big Weekend all set for Lydiard Park!
It's the UK's biggest free ticketed music festival event - and it's coming to Swindon!
BBC Radio 1 confirmed today that the station's annual flagship event, Radio 1's Big Weekend, will take place at Lydiard Park, Swindon on Saturday 9 and Sunday 10 May 2009.

The news was announced this morning by Radio 1's presenter Chris Moyles on his breakfast show, which he broadcast live from O'Neils bar in Swindon town centre.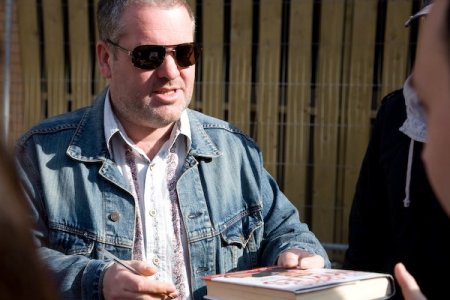 Chris Moyles outside O'Neill's in Swindon at the announcement of the BBC Big Weekend

Chris and his team were joined by Snow Patrol and N-Dubz who performed live - and both bands are also set to play at Radio 1's Big Weekend which will take place at Lydiard Park.

With live music across four stages, the two-day event will be broadcast on Radio 1, with a major interactive presence online at bbc.co.uk/radio1 and many live performances available to watch on demand.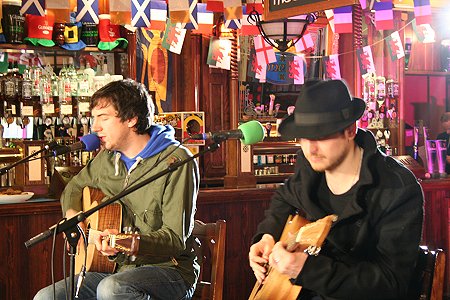 Snow Patrol perfrom at O'Neill's in Swindon town centre
on BBC Radio 1

There'll be highlights on BBC Three and extended performances can be seen via the red button on television during the weekend.
The site is licensed to hold 20,000 people per day and the majority of the free tickets go to residents of Swindon and the surrounding area.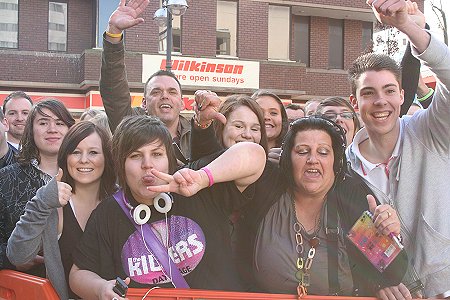 Swindon fans outside O'Neill's after the announcement of the BBC Big Weekend coming to Swindon
In the lead up to the event, Radio 1 will announce the full-line up and ticket details. Further information and frequently asked questions can be found at:
bbc.co.uk/radio1
.
"It's the best weekend we have at Radio 1," commented Chris Moyles, "we always try to bring it to places that don't normally get big events like this. The people of Swindon are going to love it!"
"BBC Radio 1 is delighted to be heading to Swindon this year," added Jason Carter, Radio 1's Editor of Live Music and Events, "It's our ninth Big Weekend and we'll be bringing some of the biggest international and UK artists to Lydiard Park.
"It promises to be the perfect start to the UK Festival season and provides a fantastic opportunity for Radio 1 to put a national focus on Swindon and the South West region and all that it has to offer."
"This is a fantastic announcement for Swindon and we are working in partnership with Radio 1 to make sure that this is the best Big Weekend ever staged," commented Phil Young, Councillor, Swindon Borough Council.
"As soon as Radio 1 approached the Council we were determined to make this happen in Swindon and when the eyes of the world are focussed on us for the weekend we will have a great opportunity to leave all of those who attend, watch and listen with a positive impression of our thriving town and borough."
photos by Kris Talikowki and Calyx

BBC Big Weekend Launch - 17/03/2009

Snow Patrol in Swindon at the BBC Big Weekend launch - 17/03/2009