Date added: 16 April 2009
BBC Radio 1's Big Weekend Fringe
Four Days, Four Venues, 16 Bands - all from Wiltshire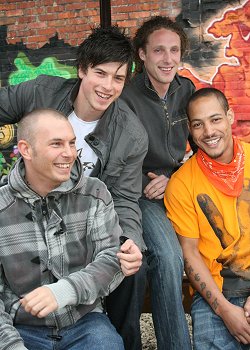 All set for BBC Big Weekend:
Beatbullyz will be playing
at the Fringe Festival
BBC Radio 1 DJ Huw Stephens has announced that 16 unsigned bands from Wiltshire are being given the opportunity to perform at BBC Radio 1's Big Weekend Fringe which runs in the week leading up to the main weekend event.
From Monday 4th May to Thursday 7th May the Fringe takes place at four live music venues across Swindon town centre. Each venue hosts the festival for one night and four bands will play at each.
BBC Radio 1's Big Weekend Fringe delivers a specific focus to supporting live music in the Swindon and surrounding area.
"Through the BBC partnership with Swindon Borough Council and Swindon Does Arts, we will be continuing to support new and under the radar music at the fringe," commented Jason Carter, Editor, Live Events.
"But we wanted the event to pay real attention on artists in the region that have caught the attention of the fringe group - it's a strong line-up of exciting new acts for the future."

"The Fringe events just add to the Big Weekend experience and allows us to reach out to even more local people and get them involved in the thriving arts and music scene in Swindon." added Phil Young, Councillor, Swindon Borough Council.
BBC Radio 1's Big Weekend Fringe

Monday 4 May:
THE 12 BAR
16 Years Plus
7.30pm -11pm

The Alfonz
The Volt
The Shebeats
The Kulucci March

Tuesday 5 May:
THE VIC
18 Years Plus
7.30pm – 11pm

Matt Kilford
Sleeping with Giants
Kill it Kid
Seeräuberjenny


Wednesday 6 May:
THE FURNACE
14 Years Plus
7pm – 11pm

The Dead Lay Waiting
Casino Drive
Decora
Realign The Stars

Thursday 7 May:
REHAB
18 Years Plus
8pm – 11pm

Beatbullyz
Para
Chew Magna
Old School Tie
The bands have been handpicked by a panel headed up by Huw Stephens and including local music representatives, including Daniel Garrett who presents BBC Wiltshire's Introducing Show (UNDERGROUND) and Steve Causer who runs 'Swindon Music Forum'.

Beat Bullyz, who come from Swindon, have also been chosen to play on the BBC Introducing Stage at Radio 1's Big Weekend.

"The Fringe gives Radio 1 a unique opportunity to celebrate new and unsigned bands and also to explore the local music scene," said Huw Stephens, "from guitar bands through to dance acts. I'm really looking forward to being there for it."

All the gigs will be free of charge. Further details can be found at the Radio 1 website via the link below.
BBC Big Weekend
A year on from the BBC Big Weekend in Swindon - so reminisce with our videos and galleries...