Date added: 26 April 2009
By George, it's big! Too big!
Giant statue of St. George gets Swindon thinking - and laughing!
It was designed to get Swindon thinking. But it also got us laughing as well.
A giant 5.5m statue of St. George was paraded through Swindon town centre this weekend as part of a cultural celebration marking the Patron Saint's Day on Thursday.
the giant statue of St. George leads the Christopher statue from Salisbury along Regent St
The 5.5m figure - built entirely in Swindon and believed to be the biggest in the world - surprised shoppers as it led a procession alongside a similar statue from Salisbury from the cenotaph in Regent Street to Wharf Green via Canal Walk.
A journey with only one glitch - it was too tall to pass under the Brunel Centre walkway!
But after some quick thinking by organisers - and much laughter and camera flashing from passersby - St. George safely continued on to its final destination beneath the BBC Big Screen - albeit for a short way in a somewhat undignified horizontal position.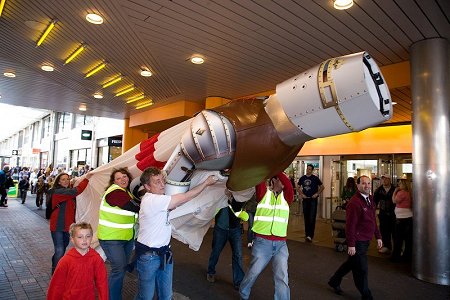 a tilted St. George is manoeuvered under the
The moment of light-hearted hilarity all adding to the occasion according to event organiser Mike Pringle, head of the Swindon Cultural Partnership.
"We had a feeling we might have a problem, but we didn't want that to stop what has been a great way to celebrate St. George's Day in Swindon," he said.
"The parade today has got people thinking about St. George, the England's Patron Saint, and as an English town we should be proud of what the day signifies."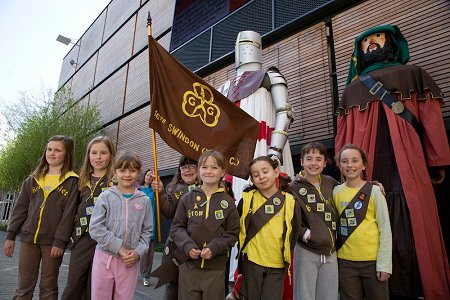 the two statues alongside the 16th Swindon Girl Guides Brownies troop
in Wharf Green
Organised as part of Think: Swindon, a month-long series of events that aim to get people in Swindon thinking more about culture, the day of celebration also included an demonstation of Bollywood dancing, African drumming plus English films and interactive football games on the Big Screen.
St. George Parade Gallery

St. George Statue Parade - 26/04/2009
Knight Rider!
St. George leads a fantastic children's parade through Swindon town centre - SEE PICS + TREASURE TRAIL

23 April 2015

St George's Day 2013
He's big and he's back and once again he paraded in Swindon town centre - SEE PICS

23 April 2013