Date added: 02 May 2009
Jack-in-the-Green
May Day tradition a-welcomes summer in Highworth
It was the ideal weather for a May Day celebration in Highworth this morning, when a Jack-in-the-Green was paraded through the streets.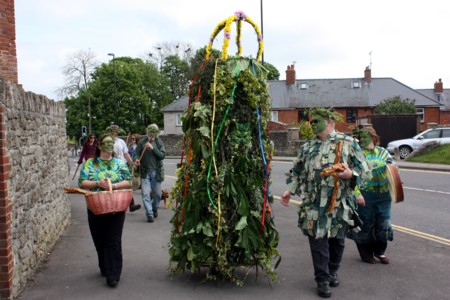 the Jack-in-the-Green celebration in Highworth
The eight-foot garland, which was built to continue a May tradition that dates back to the 16th century, headed a musical procession that started outside the Saracen's Head pub and continued via St. Micheal's Avenue and Lechlade Road before finishing in the Market Square.
Swindon's biggest May Day event, the Dawn Chorus marking the start of the Festival of Literature, will take place in Lawn woods at 5.30am on Monday morning (see pictures here).
Highworth Jack-in-the-Green gallery

Jack-in-the-Green, Highworth, Swindon - 02/05/2009
Dawn Chorus '09
A proper sunrise at last! Picture gallery from the May Day celebration...

04 May 2009