Date added: 11 June 2009
Lethbridge 10K
Hundreds brave the rain to cheer on the runners of the 10k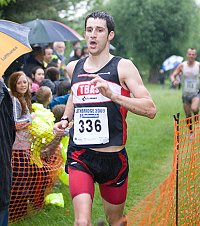 Hundreds braved the damp conditions to cheer on runners in the annual Lethbridge 10K run last night.
The race which starts and ends in Old Town is a mixture of footpaths, trails and road through the Wiltshire countryside, the majority of the race is on the old Railway Line path that runs from Old Town towards West Swindon.
The run was eventually won by Alex Fisher, 24, from the Big Adventure Store who crossed the line in 34 minutes 26 seconds.
The first female to cross the line was Kate Jacobs in 37 minutes and 39 seconds.
Lethbridge 10k Picture Gallery
photos by

Kevin Belson

- The Acceleration Lounge

Lethbridge 10k Run - 11/06/2009