Date added: 29 July 2009
Sprint-astic
Hundreds turn out for Street Athletics and to meet Linford Christie and Darren Campbell
Ever wondered if you could beat Linford Christies' 60m sprint record of 6.47 seconds?

Well today hundreds of kids did just that and to meet the former gold medallist and sprint athlete Darren Campbell.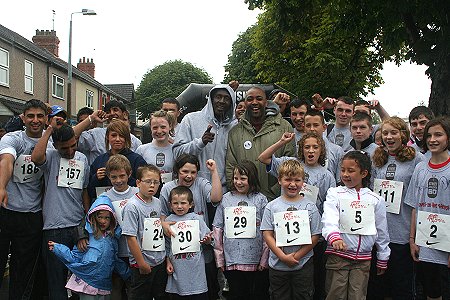 Linford Christie and Darren Campbell with the runners
of the Sprint Athletics event
"It's great to encourage young people who are not engaged with sport and community activities to take part in something positive," commented Linford Christie, former gold medallist in 100m.
"And who knows we could turn some of these kids in to Olympic stars."

At an event organised by Street Athletics and Swindon Borough Council, a free sports event in the Broadgreen area of Swindon was open to all young people between the ages of 11 and 20.
It consisted of 60 metre sprints for four different age groups (U13s, U15s, U17s and U20s).
The top three male and females from each group will now go on to compete against young people from 10 other cities in the Street Athletics national Finals in Manchester on September 26.

Street Athletics - 29/07/2009
Street Athletics 2013
Ever wondered if you could beat Linford Christie in a race? Well now's your chance to try! - 28 JUNE