Date added: 31 July 2009
Fancy some?
We grab a word with boxing legend Nigel Benn in Swindon
Former middleweight world champion Nigel Benn was at the De Vere hotel in Swindon tonight as as guest of honour at a sporting dinner in association with KM Promotions.
And we grabbed a word with the man they called the 'Dark Destroyer'.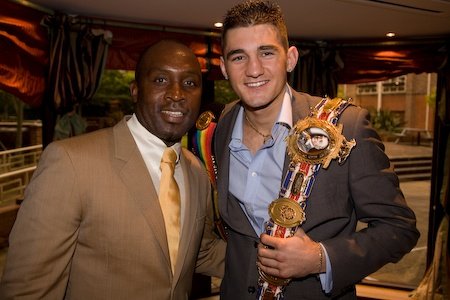 Nigel Benn and Nathan Cleverly at the De Vere
The softly spoken boxing legend gave us a brief insight into fighting on the world stage and his relationship with his former nemisis Chris Eubank. Benn also spoke candidly about his new found faith in God and how he came to terms with 'life after boxing'.
The evening, organised by Keith Mayo and in aid of the Gerald McClellan Foundation, included special guest Commonwealth champion Nathan "Clever Boy" Cleverly, who recently fought at the Oasis and is now set to challenge for a world title.
See SwindonWebTV interviews above.
Cox Shows What He's Made Of
Swindon-boxer denied world title by George Groves in epic four rounds at Wembley - WATCH VIDEO

15 October 2017

George Groves in Swindon
World Title Contender packs a punch at The Sun in aid of Sebastian Murtough - PHOTOS + SWTV INTERVIEW

01 March 2014

Ready To Rumble!
Cox & Royer come face-to-face ahead of this weekend's big Oasis clash...

14 June 2013

Cox Comeback
Swindon boxer ready for ring return at Oasis on 15 JUNE - SWTV INTERVIEW + PRESS CONFERENCE

12 April 2013

Ant & Dec-ked!
TV stars and former world-champs enjoy white collar boxing at MECA - SEE GALLERY

03 May 2012

Bam Bam v The Menace
Swindon grudge fight tops the bill at white collar boxing at MECA - WIN VIP TICKETS

Festive Knockout!
Boxing day comes early at MECA Swindon - REPORT & GALLERY...

17 December 2011

Title Fight Tops Bill
Wiltshire boxer Nick Blackwell defends his English middleweight belt at M.E.C.A - 05 MARCH...

17 January 2011

Semi Pro Fight Night
Sean Mulvihill crowned Heavyweight champion of the Neilson Promotions fight night...

13 September 2010

Go on, give it some!
White collar fight night at Liquid & Envy in Swindon - SEE GALLERY...

07 April 2010

Knock-out success
White Collar Boxing evening raises money for charity...

19 October 2009

Ready to rumble
We interview Jamie Cox and Marlon Reid before tomorrow's fight at the Oasis...

Easy win for Cox
KO in the second for Swindon boxer - WATCH VIDEO INTERVIEW....

07 December 2008

Packing a punch
Legendary heavyweights reunite at Swindon sporting dinner...

Jamie Cox
Swindon's gold medal-winning boxing hero...