Date added: 16 August 2009
Jeremy Bulloch AKA Boba Fett
We interview the Star Wars actor in town for Phantasmagoria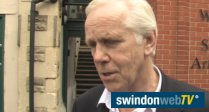 Jeremy Bulloch at the Swindon
Arts Centre, and as Star Wars'
Star Wars became a worldwide pop culture phenomenon, spawning two immediate sequels in 1977 - and its popularity still lives on today.
And this afternoon Swindon was visited by one of its original cast members - Jeremy Bulloch.
He is best known for playing the bounty hunter Boba Fett in the Star Wars original trilogy - but he was at the Arts Centre in Old Town to talk about a different sci-fi film as part of the Phantasmagoria Film Festival.
Mr Bulloch revealed the behind the scenes of TV series StarHyke - a film about Earth in the year 2584.
And we caught up with the actor to find out exactly what it was like being part of the George Lucas cast, what he really felt about his characters death and what inspired him to go into film-making.
Watch our video interview above for all the answers.