Date added: 24 August 2009
Boogie Nights in Swindon
Summer Youth project showcase the 70s musical in Wharf Green
Following on from last year's success of Oliver! the Wyvern Theatre's Summer Youth Project are now all set to put on Boogie Nights this weekend, Thursday 27 until 30 August 2009.
And today at Wharf Green shoppers and passers by got a sneak preview of what's to come as the youngsters showcased the 70s musical live on the BBC Big Screen.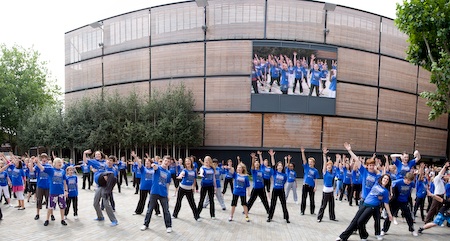 70s musical being performed by the
Summer Youth Project at Wharf Green
"I'm delighted that once again the Wyvern's Summer Youth Project has attracted so many talented young people" commented Derek Aldridge, Theatre Director for the Wyvern Theatre.
"And today's showcase has given the public a great taste of what the show is all about."

Boogie Nights - 24/08/2009