Date added: 11 October 2009
Swindon Half-Marathon 2009
Picture gallery and video from the weekend's big sporting event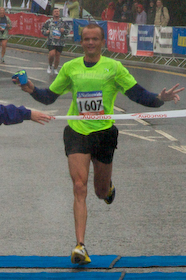 Krzysztof Bartkiewcz takes
1st place in 1 hour and 11
Despite the rain over 1,800 runners took part in the 2009 Swindon Half-Marathon.
Now in its 6th year the main race takes place over the tough 13.1 mile undulating course in and around Coate Water and Liddington Hill.
But judging by the smiles at the finishing line - it all seemed worth it for those taking part.
There was also a shorter all-terrain course and the 2 mile fun run on offer.
SwindonWeb
And this year the SwindonWeb team Liz Ledger, Kris Talikowski and Chris Midwinter teamed up with 4 people from Nationwide to help push disabled fundraiser Judy Woolfenden, who suffers Spinal Muscular Atrophy - well done team!
See our picture gallery from the event...
Swindon Half-Marathon Picture Gallery
photos by Georgia Robbins

Swindon Half-Marathon 2009 - 11/10/2009
Running Events
Set yourself an achievable target - list of Swindon fun runs, 10Ks and half-marathons...

Swindon Half-Marathon CANCELLED
2015 looking like the final year after crowd funding falls flat. Only £2,250 raised towards £27K target....

12 September 2016

Swindon Half-Marathon 2014
Well done to everyone who took part in Swindon's biggest sporting event today! - 130+ GALLERY

12 October 2014

Running In the Rain!
Our 150+ gallery from today's Swindon Half-Marathon 13 October 2013 - SEE PICTURES

13 October 2013

Running in Swindon
Our guide for fun runners and those more Seb Coe! - CLUBS, EVENTS, FOOTWEAR, TRAINING TIPS and more...

Coach Potato
Swindon fitness fanatic turns sofa sloach for Sport Relief...

21 March 2012

Mad March Hares
Hundreds join in fun run and 10K at Lydiard Park - SEE GALLERY...

07 March 2010

Sponsor us!
The SwindonWeb girls need your help!...

08 October 2008