Date added: 11 November 2009
Armistice Day 2009
Town centre falls silent to remember those lost at war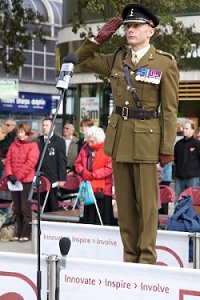 Swindon town centre fell silent for two minutes at 11am to remember those lost at war.
inSwindon held the event, its second Armistice Day Ceremony, to allow shoppers and retailers the opportunity to remember those that had fallen.

The event started with a parade led by a piper, Bugler, Troops, Colours and Normandy Veterans before ex-servicemen Tunde Fagunwa, Bernie Maguire and Simon Jackson read prayers.
After a two minute silence the Reveille was played by Mr Steve Flavin to finish the ceremony.
See our picture gallery below...

Armistice Day 2009 - 11/11/2009
The Christmas Truce
You've probably seen the advert - but Captain Mervyn Richardson from Purton was really there...

15 November 2014

Marking The Start Of WW1
100 YEAR ANNIVERSARY: Schoolchildren gather in Wharf Green before 28 June - the day that sparked the Great War...

26 June 2014

Bravery Recognised
Proud evening as Swindon soldiers are awarded Operational Service Medals for Afganistan Tour - WATCH VIDEO

12 March 2014

Field of Remembrance
Lydiard Park hosts the Royal British Legion's tribute to our brave Serviceman & women - 08-17 NOV

Radnor Street Remembrance
Swindon honours its war graves at much-neglected cemetry - GALLERY + PICS FROM OTHER REMEMBRANCE DAY CEREMONIES

11 November 2012

Strictly Poppies
Come Dancing stars perform at the opening of Remembrance Field at Lydiard Park - GALLERY

09 November 2012

A day to remember
Services held across the town for Remembrance Sunday...

12 November 2007

Swindon and World War One
Lest We Forget 101 Years On: our 4-part chronicle of the role Swindon people played in the Great War #therebutnotthere