Date added: 07 December 2009
Marlon bounces back to winning ways
Boxing at the Oasis - PICTURE GALLERY
Swindon boxer Marlon Reid proved his last defeat was not a set back as he took victory against Polandís Pawel Trebinski on points.
The judges' decision gave Reid his fifth win out of six professional fights with a score of 59-53.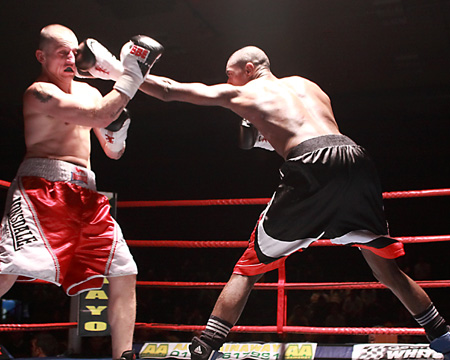 Walcot's Marlon Reid lands a left jab
Elsewhere on the card, Andrew McCaffrey was controversially denied a debut win in his contest against Adam Wilcox.

The former kickboxer was defeated 59-57 despite seeming to have most of the control throughout the bout.
Polish fighter, Alicja Dabrowska, secured a win in the opening fight of the night against Bulgarian Svetla Taskovato, the
flyweight fighter took
a 39-37 victory.

Former Penhill boxer Kelvin Young notched up a debut win against Jamie Ambler in their middleweight brawl, winning 59-55.
Jamie Speight maintained his 100 per cent professional record against Birminghamís Sid Razak on points.
Bristolís Dan Stewart took a 58-56 win against Mark McCullough, and
Chris Higgs (Lydney) beat Daniel Thorpe 60-55.

Boxing at the Oasis December 2009 - 07/12/2009
George Groves in Swindon
World Title Contender packs a punch at The Sun in aid of Sebastian Murtough - PHOTOS + SWTV INTERVIEW

01 March 2014

Ready To Rumble!
Cox & Royer come face-to-face ahead of this weekend's big Oasis clash...

14 June 2013

Cox Comeback
Swindon boxer ready for ring return at Oasis on 15 JUNE - SWTV INTERVIEW + PRESS CONFERENCE

12 April 2013

Ant & Dec-ked!
TV stars and former world-champs enjoy white collar boxing at MECA - SEE GALLERY

03 May 2012

Bam Bam v The Menace
Swindon grudge fight tops the bill at white collar boxing at MECA - WIN VIP TICKETS

Festive Knockout!
Boxing day comes early at MECA Swindon - REPORT & GALLERY...

17 December 2011

Title Fight Tops Bill
Wiltshire boxer Nick Blackwell defends his English middleweight belt at M.E.C.A - 05 MARCH...

17 January 2011

Semi Pro Fight Night
Sean Mulvihill crowned Heavyweight champion of the Neilson Promotions fight night...

13 September 2010

Go on, give it some!
White collar fight night at Liquid & Envy in Swindon - SEE GALLERY...

07 April 2010

Knock-out success
White Collar Boxing evening raises money for charity...

19 October 2009

Knock-out success
White Collar Boxing evening raises money for charity...

19 October 2009

Fancy some?
We grab a word with boxing legend Nigel Benn in Swindon on fights - and faith.... watch interview...

Ready to rumble
We interview Jamie Cox and Marlon Reid before tomorrow's fight at the Oasis...

Packing a punch
Legendary heavyweights reunite at Swindon sporting dinner...

Boxing Legends Sporting Dinner
3 course meal, auction and raffle. with Joe Eagen (Mike Tyson's sparring partner) and local Swindon CHampions: Ricky Porter + Eddie Neilson + Peter Neal + Jamie Cox + Paul Rogers + Cliff Curtis. Please contact venue for more information and to book your tickets.

29 January 2008