Jazz in Swindon throughout August
Our regular gig guide with Swindon's king of all things jazz, Dave Knight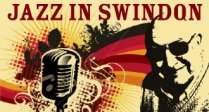 Enjoy a jazz Knight in Swindon:
I've been enjoying the smooth sound of jazz for over 60 years; Armstrong, Ellington, Mingus, Charlie Parker, John Coltrane and Miles Davis.... some I've had the privilege of seeing - all I've appreciated.
And although Swindon is hardly downtown New Orleans, we've some very special talent right here on our doorstep - Jamie Cullum et al. And some great regular jazz nights every single week.
Just find a gig and sit back and relax. It's my idea of the perfect evening. I hope it's yours.
There are a couple of venues in Swindon that offer regular, weekly jazz nights - The Old Bank and The Trout - but please check with each venue for full details. I'd hate for anyone to travel out expecting a great jazz night only to be disappointed!
The Trout Inn at Lechlade
Ian Bateman and Clive Milverton Duo
Swindon Town Football Club
Sponsors Lounge prior to the match v Brighton
12.15 to 2.45pm
The Trout Inn
Lechlade
8.30 - 11.00pm
FREE
3.30 - 5.00pm (note time)
Izzy and The Old Peculiars
The Trout Inn
Lechlade
8.30 - 11.00pm (note time)
FREE
International artists
The Trout Inn
Lechlade
8.30 - 11.00pm
FREE
Clive Morton and Rod Kelly duo and guests
Wheatsheaf
Swindon
Free
8.00 - 10.30pm
Gig of the Week