Date added: 29 May 2013
Jamie Cox
Mallory Nicholson speaks to the Swindon boxer on the eve of his return to the ring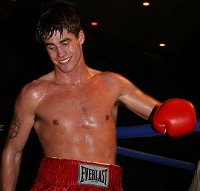 Cox is back in action on 15 June
Swindon middleweight Jamie Cox will make his long-awaited return to professional boxing at the Oasis this summer.
The former Commonwealth gold medallist spoke to Mallory Nicholson about the Best Of Swindon concert last weekend (26 May) plus his next big fight.
M:
What was your response when you saw the line-up for the concert tonight?
J:
I've read a lot on Jahmene from the press and the papers and to meet him now you see how much of a genuine and lovely guy he is. I voted for him on the X-Factor, I wanted anyone from my hometown to do well and just take it to the next level.
Same for Josh Kumra, I've met him and he's a really cool guy and I wish him all the best, and all the line-up too, I fully support them to do well for themselves and for Swindon.
M:
Do you usually come to the Oasis to see live performances?
J:
The last concert I saw was actually 'Rihanna' at the O2 in London, so it's good to come back and see this kind of thing in your hometown and celebrate the talent we've got. I prefer this kind of thing over 'Rihanna' - it's a lot more intimate.
M:
When can people next see you in action?
J:
My next fight is actually here (Oasis Leisure Centre) on 15th June. I haven't been in action for a while because I broke my hand & all the metacarpals so I didn't think I'd be able to box again, but I had a good surgeon in Manchester who repaired it so I think I'm good to go.
So this is my comeback fight against a French opposition who is the #10 in France, and he's never been stopped (Maritza Arroyo) so I'm hoping to be the one to do it!

M:
What advice would you give to any aspiring boxers who want to get to the level you're at in your career?
J:
My advice would be to be 100% committed to your training and to maintain your drive for the sport by giving yourself little goals to over come, so you know how far you've come. Also keep the passion for boxing by concentrating on what you want to achieve and sticking to it!
Jamie's next fight is at the Oasis Leisure Centre on Saturday 15 June.
Ready To Rumble!
Cox & Royer come face-to-face ahead of this weekend's big Oasis clash...

14 June 2013

Best Of Swindon 2013
Jahmene Douglas headlined an Oasis concert that didn't disappoint, writes Mallory Nicholson - REVIEW + GALLERY

27 May 2013

Cox Comeback
Swindon boxer ready for ring return at Oasis on 15 JUNE - SWTV INTERVIEW + PRESS CONFERENCE

12 April 2013