Meeting place in Swindon town centre, and the home of the new BBC big screen...

Address: Canal Walk, Swindon, SN1 1LD
Phone: 01793 440121
Website: http://www.swindontowncen...
Swindon from Above - THIS WEEKEND
Historic Aerial Photography on display in Swindon town centre
On Saturday 27 March the Swindon town centre Big Screen, in Wharf Green, will be showing a selection of fantastic old aerial photographs from the Aerofilms Historic Collection, an important archive of 800,000 aerial photos of Britain which English Heritage and partners in Wales and Scotland acquired in 2007.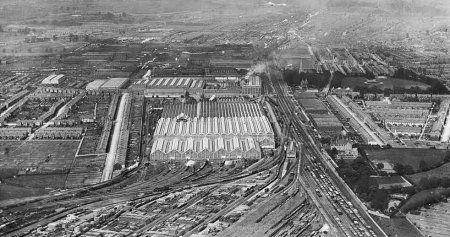 Swindon from above in the 1920s
İEnglish Heritage.NMR.Aerofilms Collection
The photos, showing what Swindon looked liked from the air in the first half of the twentieth century, will be displayed on the screen between 12 noon and 2 pm.
Members of the public will be able to share their thoughts and memories of the places in the photographs and talk to a team from the National Monuments Record, the public archive of English Heritage, to discuss the images and find out more about plans to make more of these images available online.
Since the purchase, English Heritage and its partners have begun planning for the comprehensive cataloguing, conservation and digitisation of the collection and will be submitting a Stage 2 bid for Heritage Lottery Funding in June.
Day
Date
Time
SAT
27/03/2010
10:00 - 15:00
Swindon at night
We've been out late taking pics - see gallery...

18 November 2008

Swindon from above
A unique view describing the story of Swindon - watch video...

12 November 2008