Live music venue in the Town Centre - NOW CLOSED

Address: 179 Westcott Place, Swindon, Wiltshire, SN1 5HT
Phone: 01793 522377
Website: http://www.the12barswindo...
Bands and burlesque
An evening of live music, entertainment and lots, lots more
There's nothing better then a night of dressing up!
And that was exactly what happened at the 12 Bar this weekend for an evening of Bands and Burlesque.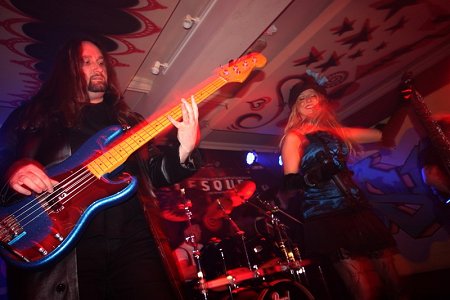 A live night of entertainment:
Bands and Burlesque evening at the 12 Bar
The evening consisted of live music, from Phobia, The A&P's and Denny Lee Jackson with the entertainment being in a Burslesque theme.
The night overall raised £905.00 for The Goldenhar Family Support Group
"The evening has been a great success," commented Alan Holmes.

"There are so many people I want to thank for their continued support on the behalf of the Goldenhar Family Support Group."

"Mandy Lawrie (Bad Moon Promotions) who organised the event so well with the help from Michelle,Amy and her Mum Margaret,
Dave and Anna once again gave us their full support at The 12 Bar, Music from Phobia, The A&P's and Denny Lee Jackson, Burlesque Performers Miss Dolly Rose & Eris Eveiller, Stan The Man aka Miss Demeanour, Magician Mr Rick and Lisa & Darren Coleman (Puttyfoot Photography)."

Bands and Burlesque Picture Gallery
photos by Lynette Thomas- Artkore Images
& Darren & Lisa Coleman - Puttyfoot Photography

Bands and Burlesque - 23/03/2009
Goldenhar Family Day 2010
A weekend of fun raised money and gave awareness for the Goldenhar Family Support Group...

15 June 2010

Nicholas McCarthy in Swindon
Acclaimed concert pianist born with only his left hand plays in aid of the Goldenhar Support Group...

10 June 2010

Nicholas McCarthy
Acclaimed concert pianist born with only his left hand plays in aid of the Goldenhar Support Group - THIS SATURDAY...

A quest for charity
Holmes Music organises charity night for Goldenhar Family Support Group...

11 March 2009

Happy nude year
Swindon band get their ROX off for charity...

11 December 2008