Queen Mania
Being a massive Queen fan, I was the first to volunteer myself to write the review for Queen Mania at 12 Bar.

With One Vision of a Freddie look-alike parading around with a Union Jack flag I was expecting the night to be A Kinda Magic!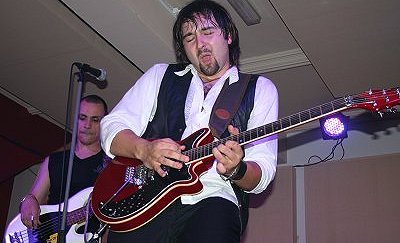 Killer Queen:


Queen Mania
Upon arrival, my dreams were slightly shattered when I was told Freddie was ill in hospital and they'd had to fly a back-up in from Italy. The Show Must Go On I thought, hoping the band weren't feeling Under Pressure!

9pm and the venue was rammed full of excitable Queen fans! On came Freddie, Brain, Roger and John - or so I thought anyway!

The all-Italian tribute band were distinctly lacking any resemblance to their idols! The full get up and actions I was expecting were non-existent and I could only make out who was supposed to be who by the instruments they were playing.
Forgive my rather harsh criticism; I am biased - Freddie Mercury is my hero so anyone trying to impersonate him is going to get picked to pieces. (Accept of course myself after a few too many bottles of wine on a Saturday night!).

That being said, although it didn't have the makings of a great night out, everyone seemed to be lapping it up! Especially when we all got our hands in the air for We Will Rock You and Radio Ga Ga!

Full marks to the guys though, they did look like an Italian wannabe indie band but they gave it all - and their choice of songs were spot on. All the greats were included in the 90 minute set - Hammer to Fall, We are the Champions, Fat Bottomed Girls, Under Pressure - you get the picture!

Last but certainly not least - the Brian May character actually would've given the original a run for his money. He even did the Brighton Rock solo (nailed it!) and as any Queen fan would know - that is quite an achievement!

So although I have been harsh in some of my comments, overall I would recommend going to see them. Albeit, I can't help feeling that hadn't the venue, atmosphere and crowd been so good, the night could have been a let down.

Review - Liz Ledger
Photos - Liz Ledger