Date added: 29 June 2008
Swindon Parachallenge 2008
British Ace Louise Hunt shows her support for Swindon Parachallenge
Dorcan Sports Complex played host to the inaugural Swindon Parachallenge today as Disability Sports were put firmly on the map.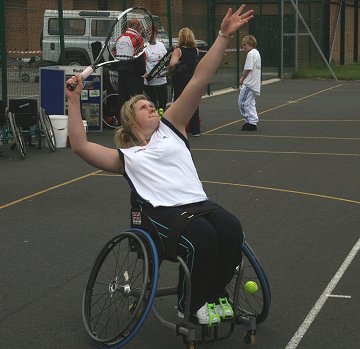 Louise Hunt plays tennis at Dorcan Recreation
Centre at the Swindon Parachallenge 2008
A whole host of sports including Powerchair football, Tennis and Climbing were organised and teams from as far afield as Nottingham came to take part.
Local wheelchair tennis star Louise Hunt was also around to promote the event and help introduce disabled people to a number of sports.
The 17 year-old Wanborough ace who is currently ranked number 5 in the World junior rankings proved to be a big hit as she showed off her impressive skills.
The event was organised by the Swindon Borough Council to raise awareness of the facilities the Town has to offer to disabled people.

Parachallenge 2008 - 29/06/2008
Fit for Business
A free event that every Swindon company should get involved in - TONIGHT...