Date added: 01 March 2008
Swindon band showcase a hit with shoppers
First Frequently inSwindon gig a major success
Swindon Town Centre was alive with the sound of live music this weekend.

Four local bands took to the stage under the Parade canopies to entertain shoppers, as part of a series of gigs organised to showcase Swindon's growing live music scene.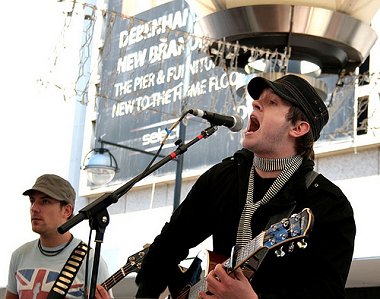 Swindon band Talk In Code rockin' the town centre

"The atmosphere has been incredible," said Steve Causer of Frequency magazine, who organised the event alongside inSwindon.

"The idea began to help develop new audiences for live music in Swindon – so what better way to show the public what goes on in the town than to take the music to them."

Bands that performed on Saturday included The Beatbullyz, Durera, Talk In Code and Billy Jon.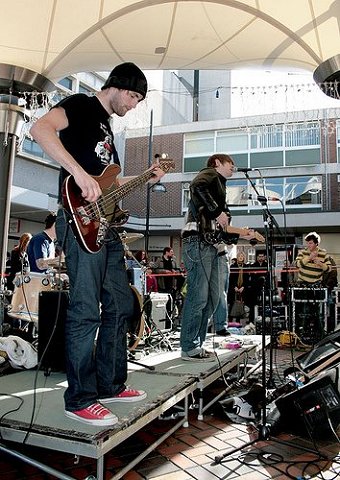 "It's the first time we've played a gig in the day, but it's gone really well," commented lead singer Bully (Andy Bullimore) from The Beatbullyz.

"We've been discussing ways to develop the local music scene in Swindon – and live music in the centre fits in with what inSwindon is doing to make the town a more vibrant place to visit," said Suzie Johnson, marketing assistant for inSwindon.

The next gig is on Saturday 5 April.

Frequency InSwindon Gig - 01/03/2008
Local Hip-Hop Group To Split
Swindon group Beatbullyz have announced they are going to split up - click here for more information...

08 February 2012

Frequently inSwindon
Live music on stage in the town centre and on the big screen - SATURDAY 03 SEPTEMBER...

Frequently inSwindon
A 'teen special' music gig featuring Ella's Unable, Dominic French, What is Echo and Theo Altieri - watch videos...

Piping hot!
Traditional American Indian music echoes through the town...