Date added: 26 March 2008
Fforde Ffiesta 2008
Convention celebrating the novels of Swindon author Jasper Fforde all set for May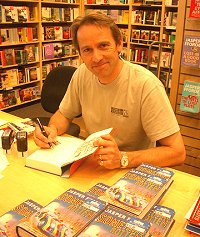 A fan convention for Jasper Fforde, celebrated creator of the literary adventures of Thursday Next set in a parallel Swindon during the 1980s, is all set to take place on the 3rd and 4th of May 2008.

The event is a celebration and exploration of the world created within the literary crime novels by Jasper, and is taking place in Swindon - the place "where anything can happen - and often does."

Taking place at the De Vere Hotel in Swindon, the event includes a guided bus tour around the key areas of Swindon which were mentioned in the books, a murder mystery gala dinner and a fancy dress ball and an audience participation performance of Richard III.

Jasper's novels, which include such bizarre characters as minotaurs, giant mammoths and Elgin Llamahs! and locations such as the Hanging Gardens of Babington and the Lighthouse on Alexandra Road, will all be brought to life this May.
"The last convention we held in 2005 attracted people from all around the world," commented Phil McMullen, Ffiesta director.
"It's a great opportunity for the fans to meet Jasper and see how he uses Swindon in his novels."
Tickets which are still available for the event an can be purchased by calling Phil on 07718750928.

Jasper Fforde - more information
Jasper Fforde
Jasper Fforde - Creator of Literary Detective, Thursday Next...